About Us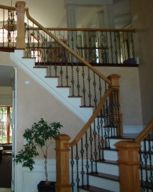 Cavallo construction was started in 1982 in Edison, New Jersey constructing most of our work at that time in Bridgewater, New Jersey. For the past 25 years we have resided in Freehold, New Jersey. Currently, we construct most of our work in Colts Neck, Holmdel and Rumson, New Jersey. The company is owned by Robert J. Cavall, who graduated from New Brunswick Vocational School. He was the only person to ever receive the award for both architectural and carpentry building in the same year. The same excitement and passion that it took to achieve this award goes into each project and addition that he creates and works on.
Remodeling
Our passion for design in each project sets us apart from other contractors. We specialize in renovating entire homes, adding major additions along with complete interior renovations.
Process
For our initial meeting I will ask you to obtain any pictures from magazines and gather as many ideas of what you would like to achieve so that at our initial consultation we can discuss the design concept, the size of the project and start to create a budget. At our second meeting I will involve a licensed architect who I feel is appropriate for your individual project to draw design concepts working from our ideas, eventually completing all construction documents that are needed.
After the second meeting I will then create a final budget which will not change unless the client adds additional items. Upon filing and obtaining construction permits I personally oversee each project on a daily basis. Our construction crew remains on the job until the job is completed. I am present and supervise all township inspections until we receive the final township inspection and certificate of occupancy for your project.
Custom Homes
Our passion is in designing and constructing the finest homes. We construct true custom homes which typically range in size from 4,000 to 9,000 square feet. All of our homes are constructed as estates. The exterior of our homes have as much attention to design and detail as you would normally build into the front elevation of your home. As you walk around the exterior of your home I would like you to enjoy the view of each side elevation as much as you enjoy the view of the front elevation. This is a detail that most contractors seem to overlook, but which I feel is highly important when you are building an estate. The size is not necessarily so important, as much as having a beautifully designed estate.
Interior
On the interior of all homes, we create a design especially for each room, making each room unique (still in the concept of the entire estate). Designs include creating a coffered or tray ceilings, custom molding which can be created right on the jobsite or ordered standard from the mill, inlaid hardwood flooring or custom tile patterns. Special attention to window sizes and locations (to accommodate furniture) including specially designed window moldings.
Kitchens and Bathrooms
All of our cabinet makers design our kitchens in-house. They construct their own cabinets at their shop and complete their own installations. We are currently affiliated with four different kitchen designers and cabinet makers. We can construct any type of counter that you may desire using granite, stone or any material you choose.
Mechanical
Plumbing Systems
We are careful to watch items such as water pressure and drainage. We offer beautifully designed custom whirlpools and showers that do not leak into the ceilings below. You may speak to our plumber who creates a natural gravity circ line which creates constant hot water throughout the entire house without using a circulating motor.
Electrical Systems
We specialize in lighting and recessed lighting placement to ensure that when you look at your ceiling you do not see a war zone between the recessed lighting and the beautifully finished ceiling. We make sure that each room has adequate switching to light the room properly without placing more that three switches in any one location. We feel that four or more switches in any location ruin the look of the wall and make it too confusing to remember which switch controls which electrical item. This is an additional detail that I feel other builders and electricians don't pay enough attention too.
HVAC
Most of our projects require three or more systems. We place our supply and return grills in inconspicuous locations to ensure that we do not impair furniture locations or interfere with lighting patterns. On other contractors projects I have noticed large ugly return grills placed in the middle of a wall ruining an entranceway or dinging room wall. When possible I install all of our HVAC systems in the attic on threaded rods suspended from the rafters so the system does not touch any ceiling or floor joist to ensure noise quality in the home. First floor systems are usually installed in the basement or crawl spaces using the same technology.
Final Note
In the past 25 years we have completed many projects. I am constantly reading all current design magazines looking for new concepts as well as creating my own building and design concepts. I know where to place a window and where not to place a window. These elements are evident in every project we build.